We're so excited to welcome the delightful Tara Sim, author of TIMEKEEPER and the upcoming CHAINBREAKER, to the blog today! If you had your heart broken by TIMEKEEPER (let's be honest, if you read it, you probably did) prepare for even more emotional destruction with CHAINBREAKER.
Keep reading to find out how to win a paperback of TIMEKEEPER or a pre-order of CHAINBREAKER, which comes out Jan 2, 2018!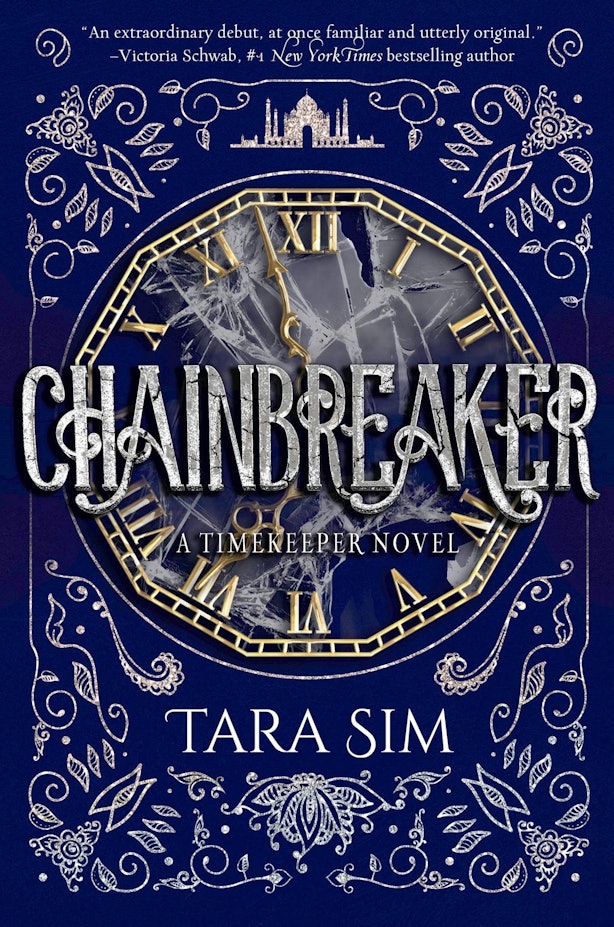 Hi Tara! Give us a quick pitch for CHAINBREAKER.
Clock towers in India are falling, but time isn't Stopping. Danny and Daphne go to investigate, but quickly find they're in for much more than they bargained for.
TIMEKEEPER built a very intricate Victorian-based world that also includes some cool original mythology. What were some of the things you were most excited to expand on when tackling book 2?
I was really, really excited to break out of a European setting and travel to India with my characters. You don't see many Asian settings in historical fantasy. I was also excited to expand the readers' knowledge of the world, especially in regard to how things are run in India versus England, and to develop more of the mythology I introduced in book 1–including a bit more history of the clock towers and how they were made.
Historical fantasy, obviously, requires heavy research. What were some liberties you took with historical details in writing CHAINBREAKER? For instance, did you change weather patterns and the end of mango season? 
Haha, well, I'm sure that magical clock towers probably had some sort of effect on things such as weather patterns and mango season. Since this is an alternate history, I wanted it to reflect some of the most important aspects of our own world–for instance, the British occupation of India–but also change a few smaller things to fit the world I created, such as the early invention of planes. There's a slightly bigger thing I altered toward the end, but that's a spoiler. 😉
One of the things I loved about CHAINBREAKER was it introduced additional perspectives. What were some of your favorite things about getting to explore the world and story from Colton & Daphne's POVs? 
I was SO excited to write in Colton's POV! Since he's not really human, he doesn't do things like breathe or swallow, nor does he understand much of the world, so the way I approached his voice and his movements were very specific. I loved getting to see my own world through his unique eyes.
Daphne was also great to write, but it wasn't fun so much as it was meaningful. She tries so hard to navigate the world, and writing her struggle and her determination was a powerful experience.
Daphne's journey and exploration of her identity was  especially emotionally resonant. Tell us a bit about your experience in writing that. 
As a lot of people know by now, Daphne is an #ownvoices character to me, as she is part Indian yet white passing (I'm biracial, but she's a quarter). When I visited India for the first time with my mom, I was so overwhelmed by not only the culture shock, but the feeling that this was some part of me…and yet not. That the very people I was around didn't think that I was one of them. I put a lot of my own emotions in Daphne, but altered, of course, for her specific character. It ended up being somewhat cathartic.
You've been very open about being biracial and the nuances of exploring culture from that perspective. What advice do you have for multiracial writers? 
Don't let other people tell you what you can and cannot write re: your experiences. There will be people, especially in your own community, who might dissuade you from doing so or heavily critiquing your work. Don't listen to them; they're not your audience. Write what you feel is right, and it will reach those who need it.
We learn that Danny has a lot of complicated feelings about tea as he leaves England. What is your personal favorite way of drinking tea?
Going to a fancy tea room for high tea, obviously. But since that's a rare occurrence, I usually prefer a good, strong black with cream and sugar, or spicy, sweet chai made by my mom.
Thank you so much for joining us, Tara! Here's where you can pre-order CHAINBREAKER!
---
Tara Sim is the author of the TIMEKEEPER trilogy (Sky Pony Press) and writer of all things magic. She can often be found in the wilds of the Bay Area, California.
When she's not writing about mischievous boys in clock towers, Tara spends her time drinking tea, wrangling cats, and occasionally singing opera. Despite her bio-luminescent skin, she is half-Indian and eats way too many samosas.
Name pronunciation: "tar-ah" (not "terr-ah").
---
And now it's GIVEAWAY TIME!
Enter for your chance to win a paper back of TIMEKEEPER or a pre-order of CHAINBREAKER!
Ways to Enter:
Comment on this blog post and follow the blog
OR
Retweet the tweet below and follow @EachStarAWorld on Twitter!